name: Miss Laura Lynn
age: Eighteen
location: SW Louisiana and Jackson, Mississippi
favorite bands: Gram Parsons, Lucinda Williams, Neko Case, Gillian Welch, Emmylou Harris, Whiskeytown, Jayhawks, the Myrtles, Cortez del Mar, the Feverfew, My Morning Jacket, Bright Eyes, Ryan Adams (pre-Demolition), Hank Williams (senior!), Patsy Cline, Loretta Lynn, Dolly Parton (pre-Kenny Rogers duets), Johnny Cash, Merle Haggard, Neil Young, Cat Power, Richard Buckner, Tim Easton, Neutral Milk Hotel, Decemberists, Dar Williams, Lucero, Rilo Kiley, Songs:Ohia, Be Good Tanyas
least favorite bands: Almost all original punk and everything that sprouted from it, excluding a few select riot grrrl bands and its influence on Neko Case. All original emo and everything that sprouted from it, definitely including "Taking Back Sunday" and "Dashboard Confessional" and the like. The Eagles. Gahh, I hate the Eagles. Jimmy Buffett/Sublime. They're the same thing for their respective generations.
play any instruments: My feet, my body. I'm a dancer.
list something neat about yourself: I'm going to be published at eighteen!! Wheeee! [a piece of criticism I wrote on metapoetical elements in Whitman's Leaves of Grass and how it affected its reception is going to be published in an intercollegiate, undergraduate scholarly literary journal.]

20 best songs
1. Return of the Grievous Angel [Gram Parsons]
2. Iowa (Traveling III) [Dar Williams]
3. Lost Highway [Hank Williams]
4. Car Wheels on a Gravel Road [Lucinda Williams]
5. Tusk [Fleetwood Mac]
6. You're the Reason Our Kids are Ugly [Conway Twitty and Loretta Lynn]
7. Mahgeetah [My Morning Jacket]
8. With Arms Outstretched [Rilo Kiley]
9. Look at Miss Ohio [Gillian Welch]
10. Hard Luck Story [Whiskeytown]
11. Legionaire's Lament [Decemberists]
12. River [Joni Mitchell]
13. Helpless [Neil Young]
14. Walking After Midnight [Patsy Cline]
15. I Missed the Point [Neko Case]
16. Save it for a Rainy Day [Jayhawks]
17. If Wishes Were Horses [Claire Lynch]
18. 4AM [Richard Buckner]
19. Tigress [Songs:Ohia]
20. King of Carrot Flowers, pt. 1 [Neutral Milk Hotel]

top five albums
1. GP/Grievous Angel [Gram Parsons]
2. The Green World [Dar Williams]
3. Rumours [Fleetwood Mac]
4. Faithless Street [Whiskeytown]
5. Devotion+Doubt [Richard Buckner]

how did you hear about fullsound? Searching for rating communities that might be worth applying to.

[optional]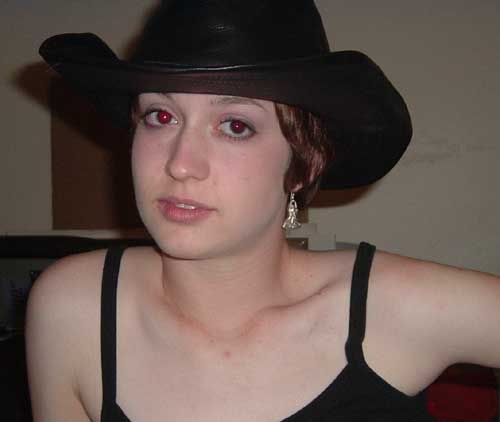 Since the picture-posting is optional, I'm going to post the world's worst picture of me, because I have my hat on.